Extra 5% off
DrivoTM Car
Insurance
Purchase Income's DrivoTM Car Insurance  with your Trust card via Trust App or website and enjoy an extra 5% off*.
We are directing you to Income to complete your application. Trust is not responsible for content provided. You will be subject to Income's Privacy Policy and Terms & Conditions.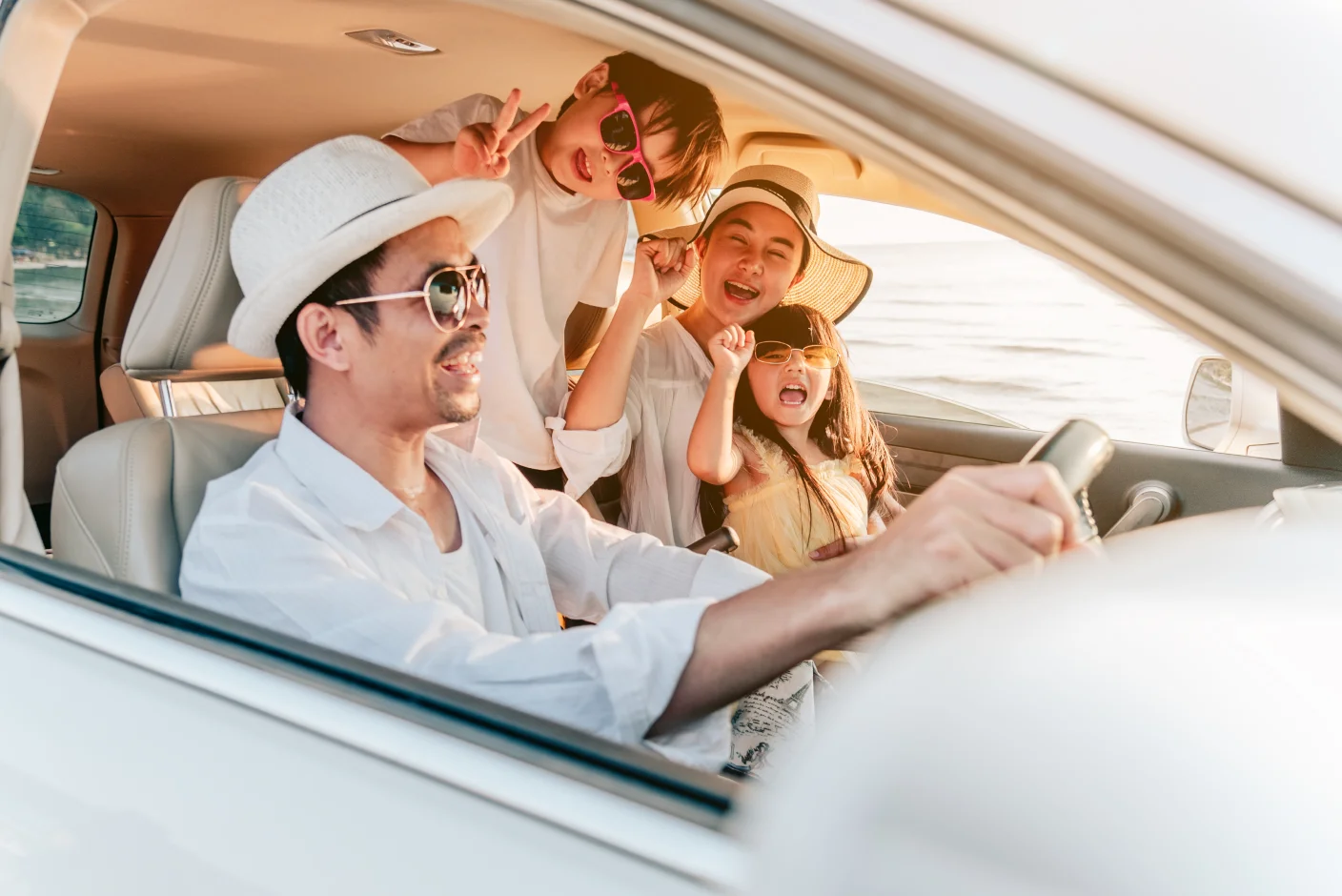 Underwritten and issued by
Trust is a digital bank backed by Standard Chartered and FairPrice Group. This means that we can offer great benefits on all things FairPrice Group - from Linkpoints to special offers on insurance products.
Get comprehensive coverage
Vehicle repairs coverage
Reimbursement of expenses incurred for vehicle repairs arising from accident.
Coverage for towing services and third-party property
Up to S$500 for towing service and S$5 million in damages to third party property due to accident
Personal accident benefit and medical expenses coverage
Compensation for death and bodily injury in the event of accident
Roadside assistance and wellness coverage1
For roadside assistance due to non-accident breakdown. As well as cosmetic reconstructive surgery and more due to accident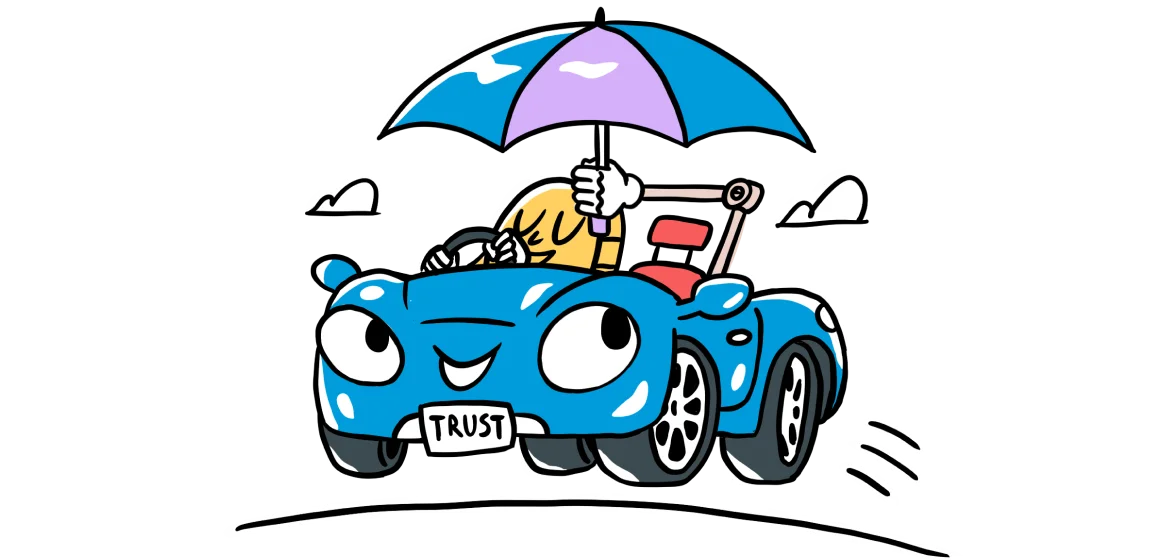 Protect every little
moment that matters
Insurance?
The best thing about moments? It's making them. Moments such as driving to places for your family adventures or singing your hearts out on your road trip with your loved ones become unforgettable when you look back on them.
Don't take these moments for granted - accidents may unexpectedly happen when you are driving on the road. That's why it's important to safeguard your daily journey with DrivoTM Car Insurance to enjoy peace of mind.
We are directing you to Income to complete your application. Trust is not responsible for the content provided. You will be subject to Income's Privacy Policy and Terms & Conditions.
Income Insurance Limited (Income) is one of the leading composite insurers in Singapore, offering life, health and general insurance.
Established in 1970 as the only insurance co-operative in Singapore to plug a social need for insurance, Income is now a
public non-listed company limited by shares
, which continues to serve the protection, savings and investment needs of individuals, families and businesses today.
1. Roadside Breakdown Assistance Benefit
If your vehicle cannot be driven due to any puncture to its tyre(s) or any mechanical or electrical breakdown and not due to an accident involving your vehicle, we will pay you the reasonable expenses incurred on site up to $200 once for each period of insurance for the following services rendered:
- Service charge to replace the defective batteries.
- Service charge to replace the punctured tyre.
- Towing fee incurred to tow the vehicle to the policyholder's preferred workshop.
- Any other services charges necessarily incurred on site arising out of the breakdown.
The costs of replacing any part stated above is not covered by this Benefit.
If the vehicle breaks down, you have to contact the breakdown service provider to assist you. To submit your claim for this benefit, you must provide the following within 30 days of the breakdown:
- Claim form.
- Photographic evidence of the service(s) provided on site.
- Tax invoice/ Receipt with details on the type of services performed by the service provider and payment made.
Additional Medical Expenses
We will pay you a further sum of up to $1,000 for reasonable medical expenses which you have paid due to an accident involving your vehicle while you are the driver of, or a passenger, for the following treatments:
- Your pregnancy-related check-up or treatment necessitated and due to the accident; or
- Your cosmetic (aesthetic, plastic surgery or dental treatment, or any treatment) reconstructive surgery.
We will only pay the cosmetic reconstructive benefit if the treatment is carried out:
a. to restore any loss of function or change in appearance due to an injury or a condition sustained by you as a result of an accident involving your vehicle;
b. within 30 days after the date of the accident; and
c. by a medical practitioner registered under the Medical Registration Act.
his benefit is only payable to you once per period of insurance and provided you have a claim which is paid or payable by us under Section 1 of this policy.
Additional Personal Accident Benefits
We will pay you or your personal representative the amount shown in the scale of compensation for death or bodily injury arising out of an accident while you are the driver of, or a passenger in, your vehicle.Scale of compensation:
a. Death - $10,000
b. Total and permanent loss of all sight in both eyes - $10,000
c. Total loss by physical severance at or above the wrist or ankle of both hands or both feet or of one hand together with one foot - $10,000
d. Total loss by physical severance at or above the wrist or ankle of one hand or one foot together with the total and permanent loss of all sight in one eye - $10,000
e. Total and permanent loss of all sight in one eye - $5,000
f. Total loss by physical severance at or above wrist or ankle of one hand or one foot - $5,000
We will only pay one of the items listed from a to f above for any one accident. If you die and/or suffer several injuries, we will only pay for the one item that provides the highest compensation. Our maximum limit that we will pay for any one accident is $10,000.
If you have more than one private car policy with us, we will pay under one of the policies only.
This benefit applies to the policyholder who is pregnant at the material time of the accident.
We will not pay you any compensation if the loss or injury is not listed in the scale of compensation.
* Terms and conditions apply
There are certain conditions whereby the benefits under this plan will not be payable. These are stated as exclusions in the Policy Contract. You are advised to read the Policy Contract for the full policy terms, conditions and exclusions.
This page is for general information to give you an idea what the key benefits are. We are not offering to sell this insurance product or service. We also do not provide any insurance or financial advice, offer, or underwrite this product. This product is underwritten and issued by Income Insurance Limited ("Income") and distributed by Trust Bank Singapore Limited ("Trust"). It is not an obligation of, deposit in or guaranteed by Trust.
All Income products are developed to benefit their customers but not all may be suitable for your specific needs. This plan may not be suitable for you if you are unsure about which type of plan or how much coverage to buy as no financial advice is provided during the purchase process. In such a case, you are strongly encouraged to seek advice from a qualified insurance adviser who will be able to advise you on a suitable product. Otherwise, you may end up buying a plan that does not meet your expectations or needs. As a result, you may not be able to afford the premiums or get the insurance protection you want.
We are not responsible for your application or for the contract of insurance. In facilitating this insurance arrangement, we are acting as Income's distributor and not as your agent. Please ensure that you understand the product features and terms before purchasing. Premium payment shall be made using your Trust Credit Card. Please ensure that your credit card has sufficient credit limit. Otherwise, your policy application and renewal may fail.
This policy is protected under the Policy Owners' Protection Scheme which is administered by the Singapore Deposit Insurance Corporation (SDIC). Coverage for your policy is automatic and no further action is required from you. For more information on the types of benefits that are covered under the scheme as well as the limits of coverage, where applicable, please contact Income or visit the GIA/LIA or SDIC websites (
www.gia.org.sg
or
www.lia.org.sg
or
www.sdic.org.sg
).
Information is correct as of 09/06/2023.